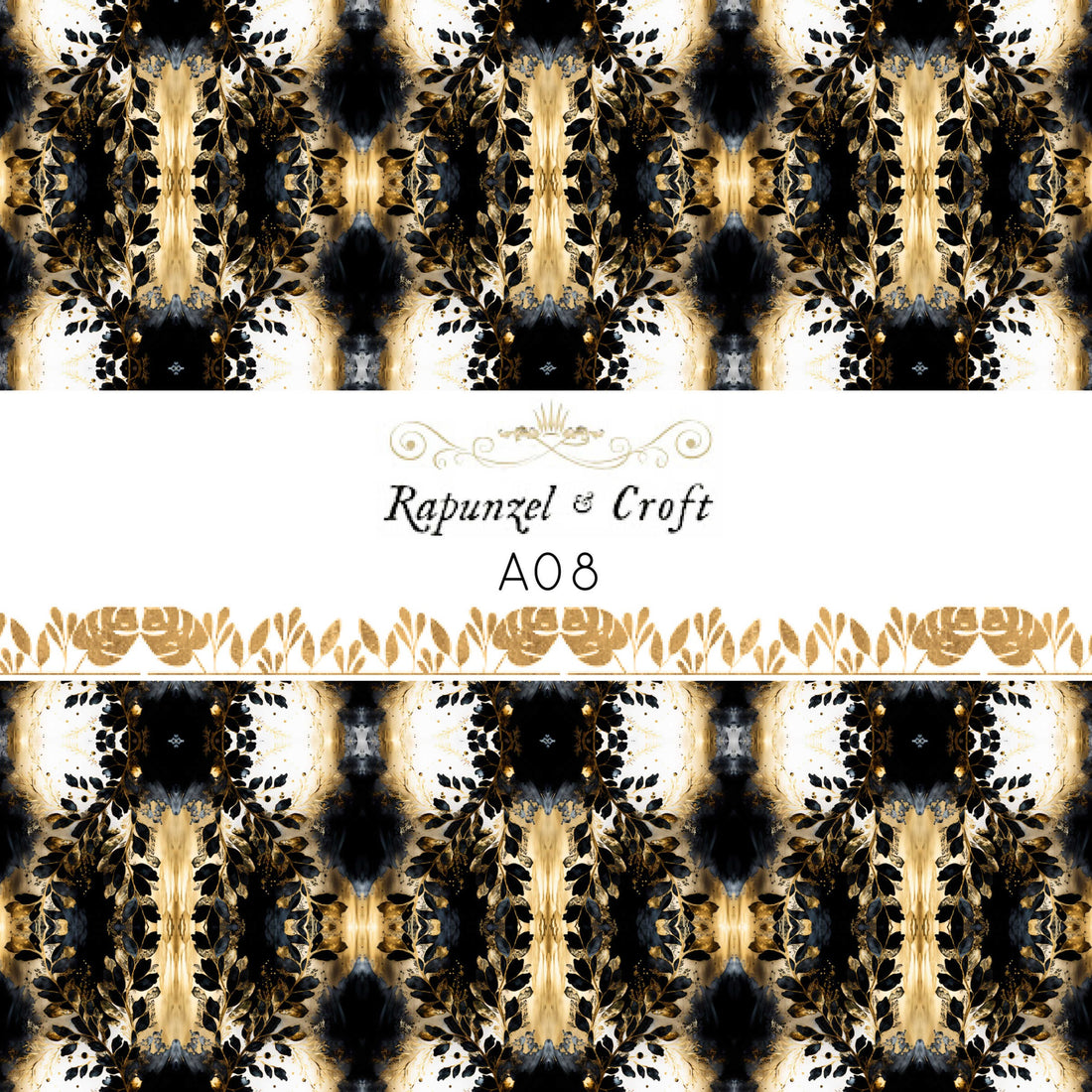 Spooky Foliage Transfer Sheet - A08
Transfer Papers should always be kept away from water or moisture till ready to use.
*Transfer papers are to be used on polymer clay
*Before applying transfer sheets, ensure your clay is flat, smooth, conditioned polymer clay
* Recommended that you have your clay on a smaller tile, so you can take to a sink to dissolve the transfer paper from the ink transfer to the polymer clay.
*Apply transfer sheet color facing down on the clay
*Use a brayer or slide your clay roller across the surface of the transfer sheet to burnish the sheet to the polymer clay (make sure you use light pressure while doing this, so you do not dent, or distort the clay)
*Allow the sheet to rest on the Polymer clay for about 3 to 5 minutes for the best adhesion and color transfer
METHODS to transfer image:
Option #1 - Spray Transfer: to transfer image, you can lightly spray water on the transfer sheet on the polymer clay until you see image appear and the goopy transfer paper dissolve. 
Then using your hand or a tissue blade, gently push/scrape across top of clay image to remove the dissolved paper. 
Repeat spray and removal of the dissolved paper until image is clear. 
***This method does not require that you have your clay on a smaller tile.
Option #2 - Rinse under tap water: to transfer image, take your small tile with the Polymer Clay / image transfer sheet to a sink. 
Turn on the tap, and make sure the water flow is gentle and slow (do not turn water full blast).  Rinse the clay/transfer image on tile under the running water until image appears. 
Use your fingers to gently remove excess dissolved paper until image looks clear.  Do not over-rub or images can distort or stick to your fingers and come off under the water. 
Repeat water rinse the until image is clear.

NEED BY A CERTAIN DATE?!
Please contact us, or leave a note in your order if you need it by a certain date. We will generally try to accommodate by moving your order up for quicker production.
We will contact you if we cannot meet the date.
▪ DO NOT just select a faster shipping method - as the shipping time does not include general production time of 3-5 business days (unless Holidays or Sales which may be 5-9 business days or as noted in Store updates)! If you do not contact us or note the date in your order, we don't know that you need it by a certain date!

▪ The faster shipping you select, only means it will ship faster once we have completed your order to ship!
WRONG SHIPPING ADDRESS?
▪ You can contact us at any time to update your address - if it has not shipped.

▪ If your address is incorrect, and has already shipped, we cannot retrieve it back. We will need to wait for the package to come back to Rapunzel & Croft at which time you will need to repurchase shipping for the correct address.
CURRENT PRODUCTION TIME FOR ALL ORDERS
▪ The current Production time - Please See individual PRODUCT descriptions for up to date times. Shipping - depending on the complexity of your order and the number of orders at the moment.
▪ Shipping time will depend on the Shipping Option you select.
INTERNATIONAL CUSTOMERS
▪ Customs Fees are NOT the responsibility of our Store - Rapunzel & Croft.
▪ Please be aware of your Country's Customs Agency processes.
▪ Your Country may have Customs Fees for items your purchase and import into the country. These are not costs associated with the Rapunzel & Croft store.
▪ Your Country may have random checks and taxes on imported/internationally purchased items. It is very important to know your country's customs fees policy when ordering.

Read FAQ's or Shipping Policies for more information.
These are general Guidelines:

▪ Contact Us within 7 days of receiving your item if there is any issues or defects.

▪ Returns can be made for non-custom items within 7 days of receiving the item, by contacting us.
Refunds will be processed, minus any shipping costs.
Return costs are the responsibility of the buyer.
A restocking fee of 5% will be removed from the refund.

▪ Custom Items cannot be returned due to the information stamped or the custom size, length or color of the item.
▪ Earrings cannot be returned due to hygienic reasons.

Please see our FAQ's for our Store Policy or the links for Refund Policy, Shipping Policy, Privacy Policy and Terms of Service for specific details.